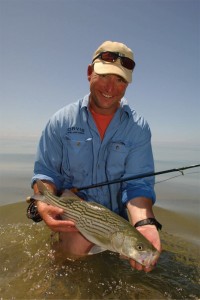 Award-winning outdoor writer Tom Keer published his first piece, a short story, in the 1988 edition of Heading Out, a local literary magazine. Since then he has published over two-thousand freelance works in print magazines and newspapers, and in digitial publications and blogs. Tom has won over 30 awards for his feature editorials, columns, and blogs from the Outdoor Writers Association of America (OWAA), the Professional Outdoor Media Association (POMA), and the New England Outdoor Writer's of America (NEOWA). He is a member of the board for both OWAA and NEOWA. More recently, Tom has edited magazines such as USA Today Hunt and Fish, a 4.5 million newsstand circulation publication and Skydance, the official publication of Woodcock Limited.
Tom has written across several different genres. While much of his work has been non-fiction for general interest and outdoors magazines and websites, he has also done considerable technical, advertising, and public relations writing. His personal favorite is literary short fiction, and he has a collection of essays, a collection of short stories, and a children's book that are works in-progress.
The Fly Fishers Guide to the New England Coast, Tom's first book, was released January 2011. And he has served as the And he has served as the National Spokesperson for the Recreational Boating and Fishing Foundation's "Take Me Fishing" campaign. He lives and writes from his home on Cape Cod in Massachusetts.
You can connect with outdoor writer Tom Keer on Social Media via Facebook, Twitter, Instagram and LinkedIn.
Tom Keer's work can be found in a variety of publications:
General Interest
USA Today, Garden & Gun, Stratos, Jet Set, Corporate Meetings & Incentives, Medical Meetings, SkyWest, My MidWest, Bride & Groom, Cape Cod Life, Cape Cod Magazine, Chatham Magazine, Chatham Bars Inn Magazine, Boston Globe, Boston Herald, Boston Business Journal, Heading Out, Marblehead, North of Boston, Communication Arts, Ad Week
Outdoors
USA Today Hunt&Fish, Covey Rise Magazine (Columnist), Gray's Sporting Journal, Field & Stream, Outdoor Life, Shooting Sportsman, Sporting Classics, Upland Almanac (Columnist), Ruffed Grouse Society, Parker Pages, Skydance (Columnist), The Flyfish Journal, Fly Fishing in Saltwaters, Kayak Angler, American Angler, Destination Fish, Saltwater Fly Fishing, Saltwater Sportsman, Traveling Sportsman, On The Water, Northeast Boating, Scuba Diving, Underwater USA, Fly Fish America, Fly Fisherman, Fly Rod & Reel, Fly Tyer, Fly Fishing New England, Eastern Fly Fishing, Angling Trade, The Bird Hunting Report, The Angling Report, Outdoors Unlimited, ICAST Show Guide, NAVHDA'S Versatile Hunting Dog, Fur-Fish-Game, Quail Forever
Digital Media
Ducks Unlimited, Remington Outdoor Foundation, MidCurrent, SportDog blog, My Grizzly blog, Sporting Classics Daily, Shotgun Life GoFISHn.com, GoHUNTn.com, Art & Gator, TakeMeFishing.org BLOG
Affiliations
NEOWA, OWAA, POMA