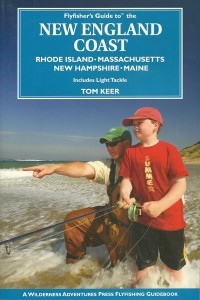 From the Publisher: The Flyfishers Guide to the New England Coast: Rhode Island, Massachusetts, New Hampshire, and Maine  is the most comprehensive guide ever written on the innumerable fishing opportunities in this beautiful area of the country. Nationally known writer and angler Tom Keer guides the reader along the entire coastline, including all bays, coves, jetties, tributaries, peninsulas and islands. Every nook and cranny is covered. Keer covers the seasons, fish species, light tackle, flies, boats, tactics, forage fish and includes a smattering of the history. Few know the ins and outs of this water better, and even fewer can put it on paper as eloquently. Dozens of maps detail every access point, boat launch, water feature and depth, giving rookie and veteran anglers alike all the information required to have the times of their lives hammering the big fish available in these waters. From stripers to sharks and everything in between, this is the must-read guide for fishing the coast, from Rhode Island to Maine.
ISBN: 1-932098-75-5. Publish Date: 01/01/2011.
Available at www.theanglingbookstore.com, www.bn.com, and www.amazon.com.
Comments about Tom's Book, Fly Fisher's Guide to the New England Coast:
"Excellent book (Fly Fishers Guide to the New England Coast) written by a friend of mine. Few people know the coast of New England as well as Tom Keer. Experienced anglers will learn something new and those new to the sport and the New England coast will tap into Tom's years of fly fishing experience. Tom's intimate knowledge of this area's fishery will shorten the learning curve for both seasoned and novice anglers alike."
-Captain Curt Jessup, Cape Cod, Massachusetts
"Wilderness Adventures Press Inc. has published dozens of must-have books for the fly-angler's library. Titles include everything from Flyfisher's Guide to Alaska to Flyfisher's Guide to Wyoming – and seemingly everything in between. For its latest, Flyfisher's Guide to the New England Coast, Wilderness Adventures called on celebrated fly-angler Tom Keer. In this guide, Keer doesn't leave anything in question, covering what anglers need to know to successfully fish the coasts of Rhode Island, Massachusetts, New Hampshire and Maine. The book is filled with technical information on how to catch popular species like stripers, bluefish, weakfish, false albacore, bluefin tuna and more. He also goes in depth on fishing specific parts of the region and gives information valuable to visiting anglers. This is certainly a can't-miss for anyone with an interest in fishing Northeastern waters."
-Book Review from Fly Fishing in Saltwaters
"This book is fantastic. It provides specific tips and locations throughout New England so that both beginning and advanced anglers can maximize their chances at landing salt water species. It is truly comprehensive. Maps are included that are particularly helpful and easy to read. Mr. Keer's writing style is engaging and educational. You get the feeling that he really wants YOU to catch more fish. He avoids "the attitude" displayed by so many fly-fisherman and presents information that is helpful to all skill ranges. If you want to fish New England saltwater for the first time, learn more tactics, or learn about specific locations in New England look no further. This is your book."
-Cabe Loring, South Carolina
"Tom Keer has written the perfect guide to finding great fishing on New England's coast. This book will be under my arm this year as I travel the coast and chase some fish. Informative and fun — it's a must-have book for fly and light-tackle fishers."
-Beaver Shriver, Pennsylvania